So you've got a wooden fence that adds privacy and enhances the look of your property. Surely, you'd want it to function in a way that contributes to your home's security. But how do you make your wood fence more secure?
Compared to having no fence at all, a would-be intruder would think twice if there's a privacy fence around a property. On top of that, if the security fencing looks challenging to jump over, it tends to discourage trespassers even more.
Make your fence more formidable by following these effective tips.
6 Ways To Make Your Wood Fence More Secure
Even as the FBI reports that property crime is dropping, securing your home remains a necessity – and your fence plays a major part in this. If you consider that the cost of wood fence installation is no meager investment, beefing it up becomes even more crucial.
Here are six smart and practical fencing ideas to make your wood fence more secure.
1. Face Rough Side In
Wondering what the rough side of the fence is? That would be the side with all the posts and brackets. Some homeowners install fences with this side facing outside the property to make it more aesthetically pleasing. However, if you plan to do it this way, remember that you're also making the fence easier to climb from the outside.
If your priority is to make your place more secure with the help of a fence, you can scratch that notion. Besides, there are other ways to improve the look of your wood fence – simply use paints or stains.
So if you haven't installed your fence yet, you should keep this tip in mind during installation. While you may need to sacrifice its appearance when seen from the inside, you'll continue to have peace of mind knowing it's hard to climb over from the outside.
2. Aim for Height
Since privacy fences are usually 6 feet or taller, you may skip this tip if you have a wood fence built for such a purpose. Even if you followed the first tip and positioned the rough side correctly, a fence that's only 4 feet high is still easy to scale.
But how do you add height to an existing fence? You can usually do this with lattice toppers. Sure, they're not as secure as a 6-foot privacy vinyl fence. Still, this additional height is better than having a shorter fence.
However, before you make your fence taller, you need to check your city's regulations. Most cities require homeowners to have a permit to build a fence exceeding 6 feet in height. While it may add another process to securing your fence, it's certainly well worth it.
If you think these toppers will only make the fence easier to climb, the next tip will help ensure it won't be so.
3. Add Anti-Climbing Features
For homeowners who want to be aggressive in deterring intruders, you'll love this very effective DIY approach. In fact, military facilities use the same approach in the form of barbed wires. However, you wouldn't want to use unsightly barbed wires, especially if you live in an affluent neighborhood.
Also known as fence spikes or cacti spikes, anti-climbing spikes offer a less conspicuous option. They are also readily available from most hardware stores, or you can purchase them online. For more bang for your buck, choose a spike that also works well in deterring birds and small animals like raccoons.
These anti-climbing features are usually supplied in strips, and the installation often involves nailing, screwing, or gluing them on top of the fence, lattice toppers, or fence posts.
4. Use Anti-Climbing Paint
If you want a less harmful security measure than the anti-climbing spike, you can opt for anti-climbing paint instead. Also used by the government, this specialized paint is applied on the fence's surface, usually near the top. It's slippery long after the paint has dried, which means anyone who tries to climb over your fence will merely slide back down. Even if you apply the paint only on top of the fence, it would be hard for anyone to grip this part to scale it.
However, there's a catch to using this paint on your fence. The paint will easily rub off on people who get into contact with the fence. As such, you should post a sign in an easy-to-spot location to warn them about the anti-climb paint on your fence.
5. Plant Thorny Shrubs Around the Fence
Out of all the tips mentioned here, this is the best for any wooden fence. Not only will it help level up the security provided by your fence, but it also will add more aesthetics and privacy.
Growing thorny plants outside your fence not only helps in deterring human trespassers but small animals, as well.
Some great prickly shrubs and bushes:
Rose bushes
Bougainvillea
Tiger trap shrub
Red sandalwood
Hawthorn
Holly
6. Install Floodlights and Cameras Around Your Property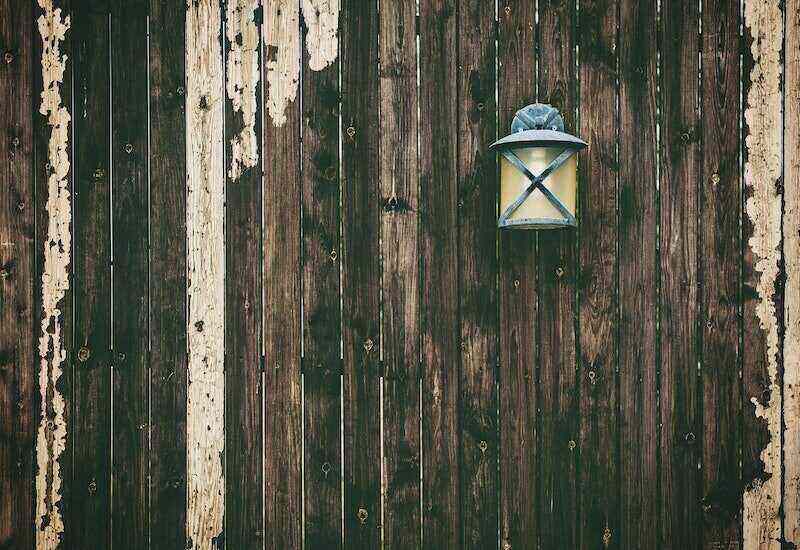 Installing a camera on top of a fence can immediately dissuade most would-be burglars. Combining it with a flood light that automatically turns on will discourage daring prowlers who are testing your security measures.
This method is so effective that even if you have a chain-link fence, just installing a sign that says your property is protected by closed-circuit television scares off criminals. The only drawback with an obvious camera installation is that more daring trespassers might end up looking for a blind spot. As such, it's best to get a camera with a larger viewing angle.
FAQ About Ways To Make Your Fence More Secure
How can I make my fence stronger?
While you can have a combination of security measures installed on your fence, they're of no use if your privacy fence is easy to topple over, hack, or break. As such, it's also crucial that you make your fence stronger and burglar-proof. Doing this can be as simple as reinforcing the rails and ensuring the boards are securely held in place.
How do I reinforce the bottom of my fence?
Most people think that intruders only go over the fence. But the truth is, they can also force their way in by crawling under the fence. To ensure this doesn't happen, you can place a horizontal board along the bottom of the fence panel. Also known as a rot board or kickboard, this piece of wood is usually 2×6 or 2×8 inches and runs along the base of the fence panel.
Can I use a wood fence for security?
Yes, you can. However, it doesn't mean it's the best type of fence. It usually depends on a number of factors, such as the type of wood you use and the manner of installation. Your diligence in performing regular maintenance is also important so the wood remains strong and stable throughout its lifespan.
What is the best wood fence design for security?
Out of all the wood fence styles, a privacy fence is the best fencing suitable for security purposes. A wood privacy fence is already built high enough, so you will only have to add a few more security measures. Compared to other types, such as split rail or picket fences, a solid fence doesn't have gaps in its slats that would encourage intruders to climb over it.
Get the Most Out of Your Wood Fence by Making It More Secure
Follow these tips to get the most out of your fence investment. Doing so will increase your property's curb appeal while ensuring your family and valuables are well-protected inside your home.
Ready to beef up your security with your wood fence? Fence Gnome connects you to the best fencing professionals in your area.
Main photo credit: DenBoma / Canva Pro / License
Melanie Joseph
After discovering her passion for writing through her beauty blog, Melanie left her engineering job in California, became a writer, and never once looked back. When she isn't writing, she loves dipping in the pool, tending to the garden, or doing simple home improvement projects.