Privacy fences come in all shapes, sizes and styles, so choosing one can be difficult. Whether the fence is for a pool, a front yard, or a backyard, the sheer number of options of materials and styles can be overwhelming. In this article, we will go over what you need to know to choose the best fence for privacy. 
But first, what exactly qualifies as a privacy fence? 
Privacy fences are generally 4 to 9 feet tall and have few to no gaps through which anyone can see. Anything shorter or more accessible to a passerby's gaze doesn't afford enough privacy.
Knowing your individual privacy needs and personal aesthetic preferences is key to choosing a privacy fence that's right for you.
Then it comes down to considering the best fence materials for privacy and the best fence styles for privacy, and we'll cover those below
. 
Best Fence Materials for Privacy
Wood
Wood might require a little more upkeep over the years, but you have many wood types from which to choose, not to mention the many designs you can create with wood (we explore that later in this article). Here are some popular wooden fence types, costing anywhere between $14 and $31 per foot.
Cedar
Aesthetically pleasing red hue and tight knots
Very common
DIY-friendly installation process
Naturally rot-resistant and insect-resistant; low maintenance
Color naturally fades to gray; apply penetrating sealant annually to maximize color longevity
Can last 15 or more years with proper maintenance
More expensive than pine, less than redwood
Redwood
High-end; expensive
Often used for smaller enclosed spaces like pools
Naturally decay- and insect-resistant
Naturally resistant to shrinking and warping
Pressure-Treated Pine
Most affordable option
More susceptible to warping and shrinking over time than alternatives
Not as aesthetically pleasing over time
Typically lasts 15 years or less
Vinyl
Vinyl privacy fences generally cost more than wood, but they're worth it because they're low maintenance (vinyl fences don't require you to paint and stain them repeatedly). Vinyl or PVC privacy fences can last around 30 years when maintained properly. Vinyl privacy fences may not be as sturdy as some masonry and wood options, but they are still secure and will give you plenty of privacy. 
Vinyl fences cost $17 to $38 per linear foot.
Aluminum
An aluminum privacy fence is an excellent option for privacy and security. Like vinyl and composite, aluminum is low maintenance, and you can purchase wood-like aluminum. Aluminum privacy fences are stronger than most wood and vinyl fences, and you can get them in stockade, shadowbox, or board-on-board designs. 
Aluminum fences cost $19 to $76 per linear foot.
Composite
Composite fences usually come in solid pre-made fence panels, which may require professional installation or take longer to install than vinyl or wooden ones but are often tall and provide excellent privacy. Like aluminum and vinyl, composite fences are virtually maintenance-free since you'll likely never need to paint them.
Composite fences cost $15 to $45 per linear foot.
Bamboo
Like composite fencing, bamboo fences often come in pre-built panels and provide just as much privacy. The tall bamboo poles are tightly fashioned, creating a wall that might not offer as much security as masonry or composite options, but can be just as beautiful. Bamboo is typically much cheaper than most other fencing materials and great for backyard or pool areas.
Remember that since bamboo is organic material like wood, you'll need to apply a preservative coating to protect it from insects, mold, and rot.
Bamboo costs about $3 to $6 per linear foot.
Masonry
Brick, stone, and concrete fences are arguably the most resilient and secure of privacy fences, although concrete might not be the easiest on the eyes. Masonry fences are all more expensive than wood and likely require professional installation to establish a secure foundation. 
It's not uncommon for homeowners to mix wood or iron with masonry to create sophisticated designs or save on costs.
Masonry fences typically cost $25 to $35 per linear foot.
Best Fence Designs for Privacy
Stockade
Stockade privacy fences are arguably the most common style of privacy fence. Simple but effective, you'll instantly recognize their gapless side-by-side boards. Stockade privacy fences often consist of pointed pickets at the top, which deter intruders from climbing them. Alternatively, they might be capped or topped with a flat rail for a more refined effect.
Shadow Box
With this privacy fence option, boards stand on opposite sides of a rail in alternating positions, creating a shadow box effect. The gaps by the alternating boards on opposite sides of the rail allow viewers to see through the fence at angles but not directly, providing some but not total privacy.
You can purchase wood, composite, vinyl, and aluminum shadow box panels.
Board-on-Board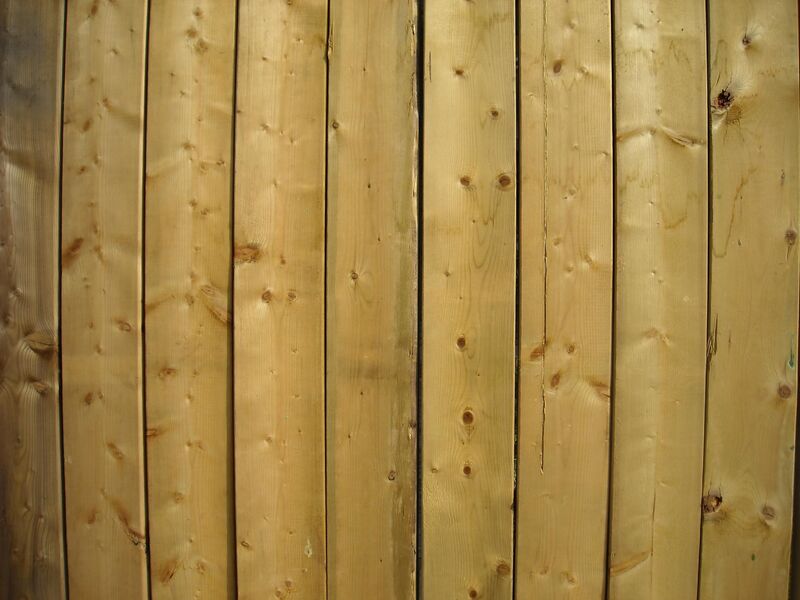 Board-on-board is similar in design to shadow box fencing, but the boards overlap, leaving no space for onlookers to see through at all. Board-on-board typically costs more but is more durable than many other fence styles.
Lock Board
As the name suggests, the boards lock together in a tongue-and-groove design that leaves no gaps. While sturdy, like the board-on-board style, the lack of gaps allows no airflow, which buffers you from wind and noise. You'll often see cedar used for lock board-style fences.
Lattice
Arguably the most decorative of fencing styles, you'll easily recognize the lattice fence's familiar criss-cross pattern. Lattice fences usually come in pre-built panels, and although their holes do not provide complete privacy, you can allow vines to grow on them to create a natural visual barrier.
You can also include latticework at the top of another fencing style, like stockade or shadowbox, as a decorative element.
Horizontal
Horizontal fencing ensures plenty of privacy while offering a sleek, contemporary effect. It often costs more because the horizontal nature of the fence requires high-quality timber; otherwise, the horizontal pickets will eventually sag.
Pros and Cons of a Privacy Fence
Pros
Privacy from neighbors, passing pedestrians, and drivers
Security of keeping pets and children safely enclosed and trespassers out
Cons
Burglaries concealed from view
Difficult lawn care around fence
FAQ About How to Choose the Best Privacy Fence
What are some alternatives to privacy fences?
You can use plants and landscaping like privacy hedges, brushwood fences, and vertical garden fences to create privacy. 
Is it better to have my privacy fence slightly off the ground?
It can be beneficial to help prevent excessive moisture exposure and rot to have your fence at least 2 inches off the ground. If you have dogs, however, they may be able to dig under a slightly raised fence.
How can I make my privacy fence more secure?
You can take many steps to increase the security your fence provides, including choosing a tall height, installing security cameras and anti-climbing devices, and adding anti-climbing paint.
Are there any steps I need to take before installing my privacy fence?
Yes, you'll want to make sure to take these three steps.

1. Check your homeowners association regulations to ensure you can build one in your neighborhood.
2. Check city codes to see if there are any special rules about building fences in your city.
3. Obtain a permit if necessary.
Can I turn my chain link fence into a privacy fence?
Yes, there are DIY methods that feature slats, fence tape, plants, and more.
When to Hire a Fencing Professional
Now that you have an idea of what your privacy fence options are, you might be wondering if you should DIY or hire a pro.
DIY fence installation can be frustrating, and if not done correctly, it will cost you additional money and hassle. Unless you're sure of yourself and have some experience installing fences, you should consider leaning on a fencing professional for assistance. That's where we can help. Fence Gnome connects you to the best fencing professionals near you, and you get quotes in minutes.
Main Image Credit: Pxhere
Zach Bridgeman
Zachery Bridgeman is a writer who grew up in Alabama and currently lives in Pittsburgh. He enjoys writing fiction, painting, and exploring the city in his free time.